REPORT FROM THE NATURE CONSERVANCY'S BIRDRETURNS PROGRAM
BirdReturns delivered a total of 1,926 acres of temporary wetland habitat for waterbirds in Sacramento Valley in its Fall 2018 Program. The majority, 1,496 acres, of the high quality "pop-up" habitat created this fall was possible thanks to generous support from the California Ricelands Waterbird Foundation. The Nature Conservancy is grateful for the important partnership with the rice industry and the significant role the Rice Commission continues to play in facilitating this successful program.
The Foundation's investments funded six contracts with rice farmers for shallow flooding and waterbird-friendly management practices in September and early October, a time of year when the majority of crop fields in riceland are still in production, and water is extremely scarce on the landscape.
Similar to practices implemented in NRCS' Waterbird Habitat Enhancement Program, growers were required to manage post-harvest vegetation and straw to achieve minimal standing stubble and matted vegetation, and to till fields to expose bare soil and incorporate remaining vegetation into the soil.
The Foundation's support funded six of the eight fall 2018 BirdReturns contracts. Half the contracts, or 229 acres, were in the September A program, which began September 1, 2018; and half, or 1267 acres, were in September B, which began on September 15.
BENEFITS TO BIRDS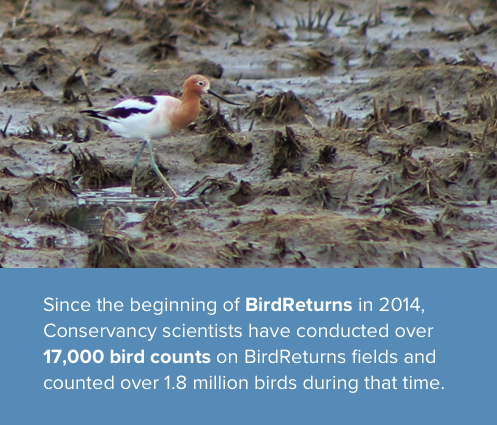 The Foundation's investment in BirdReturns primarily benefited shorebirds migrating through the Central Valley, which is the linchpin of the Pacific Flyway. Pop-up or temporary wetland habitat in rice country can provide huge benefits for shorebirds in early fall when suitable habitat is scarce. The pop-up wetlands created on these rice fields provided high-quality habitat at an extremely critical time during fall migration. They serve as crucial stopover sites, where birds can rest and feed on their long migrations. Target species include the long-billed dowitcher, least sandpiper, dunlin, greater yellowlegs, curlew, plover, black-necked stilts, white-faced ibis, and American avocet. Other species benefiting from BirdReturns habitat include greater and lesser sandhill crane and numerous goose and duck species.
We monitored bird response at all six sites during the enrolled weeks and continued to monitor following the enrolled treatment period as long as water or bird presence was recorded, except where fields were flooded for duck clubs and landowners preferred not to have monitoring continue.